Sports Marketing Jobs
Did you know that athletics sponsorship accounts for an enormous portion of the sports business industry? If you want to get involved with sports then this could be the area for you.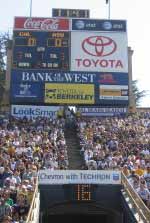 The IEG Sponsorship Report estimated that sports sponsorship spending exceeds $11 billion, representing 68% of sponsorship spending across all industries. No matter what sport you're watching–soccer, motorsports, football, basketball–you see the names of sponsors. And it's big news when a big name signs a new sponsorship deal.
Perhaps you know that Indy & NASCAR driver Danica Patrick has a very visible relationship with her sponsor, GoDaddy? Of course, everyone knows about Michael Jordan's relationship with Nike and have you seen the AIG logo on the front of Manchester United's uniforms? American International Group (AIG) is an insurance company sponsoring the world's most popular sports team! The bigger deals always make headlines but the reality is that there are many smaller deals you never hear about. Stadium signage deals, team and individual sponsorships. Heck, even the lesser named golfers on the PGA Tour are wearing some sponsor's logo.
Sponsors help fund the operations of stadiums, individual athletes, and sports teams plus they provide products and services. Without the sponsors most sports organizations would struggle to survive. A golfer, for instance, needs sponsor money to travel and pay entry fees.
Search Sports Marketing Job Listings
Marketing and Sponsorship Opportunities
In the membership section of SportsCareerFinder you'll learn all about how the sponsorships process works.
There are potentially three parties in a sponsorship deal. First, the property, which is often a team, league, or event, is almost always on the selling side. Occasionally a property will purchase a sponsorship of another property. The corporation is the second party and usually on the buying side. Finally, an agency often negotiates and executes a sports sponsorship on behalf of either a property or corporation. The presence of an agency does not remove either of the other two from the equation; in fact, many deals are done through a collaborative effort of all three parties.
In our sports sponsorships and marketing section we take you through the whole process: prospecting, proposals and sales pitch, negotiating, execution, analysis and deal renewal.
Since you're looking for a sports job–that's why you're here right?–we also list and describe most of the positions found on all sides of the sponsorship table, from corporations and agencies to properties.
Typical Jobs include:
Account Coordinator Jobs – This is the most entry level position within sports sponsorship sales. The account coordinator is typically responsible for researching and prospecting sales leads.
Sports Marketing Account Executive – At the account executive level, one is responsible for the servicing of existing clients as well as pursuing and securing new sponsors. Like an account coordinator, an AE wears many hats and must be able to multi-task efficiently.
Sports Marketing Account Manager – The sports marketing account manager or director has less in the way of day-to-day responsibilities associated with execution and is more focused on new business development and relationship building. The majority of this person's time is spent managing the relationships between the organization and the various sponsors.
VP of Business Development – In many organizations, the VP of Business Development is also the head of marketing. This person wears many hats, overseeing all marketing efforts from game day promotions and grassroots efforts, to branding campaigns and regional media.
Other Benefits of Being a SportsCareerFinder member include:
List of major sports marketing agencies
Collegiate sports marketing agencies
Interview Q&A with a former NFL account manager
Tips for landing corporate sports marketing jobs
Sports marketing pay and job information
These are just some of the positions detailed in the sports marketing and sponsorships jobs section of SportsCareerFinder.