Health and Fitness Jobs
One of the largest sports job sectors is health and fitness. The types of jobs in this arena range from those requiring little to no previous experience to jobs where a medical background is essential.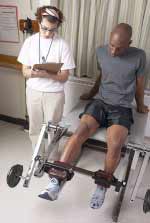 The good news for those seeking health and fitness careers is that the opportunities are available far and wide. How about your local health club? No doubt they regularly hire for fitness coordinators and personal trainers. Meanwhile, in every state, athletes are seeking out strength and conditioning coaches and speed and fitness coaches. Athletes sign up for one-on-one training or group training in preparation for an upcoming season, to stay in shape during the offseason, and to prepare for their sport's professional sports draft.
Search Health & Fitness Job Listings
Generally, people working in the health and fitness business lead and teach individuals, teams, and/or groups of people through cardiovascular exercises, strength training regimens, and stretching to improve flexibility. Where are the job opportunities?
Your local health clubs
With professional sports teams
College athletic departments
Private clubs, health and fitness companies
In hospitals
Yoga and pilates studios
Resorts
Cruise ships, and
Clients' homes.
Increasingly, fitness workers also are found in workplaces, where they organize and direct health and fitness programs for staff. Additionally, many ex-athletes launch their own companies or sole proprietorships in order to make a living as personal coaches.
Job Opportunities for Physical Therapists, Athletic Trainers, Strength and Conditioning Coaches, & More
As a member of SportsCareerFinder you'll get to examine many of the most common jobs in this sports careers sector. There's also an excellent interview with a well-known Strength and Conditioning coach. It's full of advice for breaking into the industry and details on the day-to-day world of working in health and fitness.
Search Health & Fitness Job Listings
Want to learn more about health and fitness jobs? Here is a list of positions detailed on SportsCareerFinder:
Clinical Exercise Specialist Jobs – Clinical exercise specialists work with special populations such as severely injured athletes, extremely obese, or elderly.
Physical Therapist Jobs – Physical therapists examine patient medical histories and then test and measure the patients' strength, range of motion, balance and coordination, posture, muscle performance, respiration, and motor function.
Sports Specific Trainer Jobs – These trainers run elite athletes through plyometric and balance exercises to enhance there speed and agility with respect to their sport.
Strength and Conditioning Coach Jobs – Develop year-around strength and conditioning programs for student-athletes, if at the college level, as well as determining appropriate sports-specific regimens, dietary needs, and overseeing weight training facilities.
Athletic Trainer Jobs – Athletic trainers help prevent and treat injuries for people of all ages. Their clients include everyone from professional athletes to industrial workers. Trainers specialize in the prevention, assessment, treatment, and rehabilitation of musculoskeletal injuries.
Personal Athletic Trainer Jobs – Personal trainers work one-on-one with clients either in a gym or in the client's home. Personal trainers help clients assess their level of physical fitness and set and reach fitness goals.
Nutritionist and Dietician Jobs – Nutritionist jobs don't require any specialized training while education is necessary to become a dietician. Explore the differences in our Members section.