Sports Facilities Jobs
Overview
Sports venues have become huge money making machines. Especially over the last 20 years. Over 175 major sports venues have been built since 1990, with total spending exceeding $20.4 Billion. This is a far cry from the $1.5 billion spent in the 1980s.
Since 2000 alone, 27 major league stadiums and 9 arenas have been built in the U.S. with a total cost of $7.95 and $1.97 billion respectively. This breaks down to an average cost between $215 and $300 million per stadium or arena. Here's an interesting fact to stump your friends with…The largest sports facility in the U.S. is Indianapolis Motor Speedway with a seating capacity of 250,000.
Focus On: Stadium Jobs
Sport Facility Background
There are many factors that account for the sports building boom but the most significant is the economic prosperity the country saw between 1990 and 2001. During this time there was also a significant expansion of professional and collegiate sports with stiff competition between cities for teams.
Team owners were all looking for new sources of revenue at this time as well and this lead to 'fully loaded' stadiums and arenas with significant amounts of premium seating. This premium seating included luxury suites that sold for anywhere between $150,000 and $350,000 a season as well as and club seating and personal (permanent) seat licenses in which the consumer/fan makes advanced payment to secure exclusive access to preferred seats for 'life.' These pre-sale tactics allow the team or developer to raise substantial capital in advance of construction of the facility.
Characteristics of Modern Generation Sports Facilities:
There are drastic differences between new facilities (last 20 years) and the older facilities of the 1980s and before. These facilities share a number of characteristics that have changed the way professional teams operate, and include;
Loaded with 'Premium' amenities

Luxury Suites
Elaborate/Specialized food and beverage Point of Sale (POS)

Platform for Corporate Investment

Naming Rights
Sponsorship

Much more expensive to build
Reduced seating capacities
Smaller government subsidies (based on percentage of total facility cost)
The bottom line is that these facilities were more expensive to build, brought in more money, and need a more sophisticated operations staff.
Exhibit A.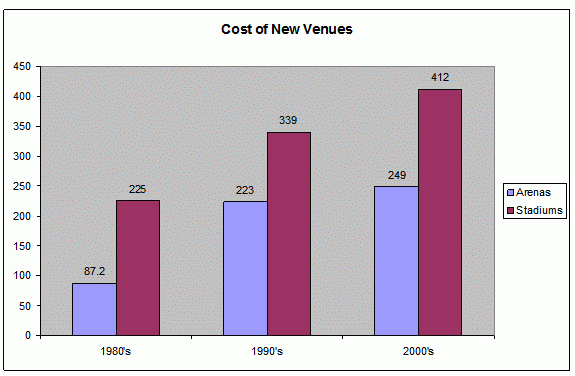 Exhibit B.
STAPLES CENTER REVENUES
| | |
| --- | --- |
| Sources | Estimated Yearly Income |
| Corporate Sponsor Partners | $2.5 million |
| Naming Rights Agreements | $5.8 million |
| Luxury/Premium Seating | $35 million |
|   | Total  $43.3 million |
'Old' Versus 'Fully Loaded' Venues
One of the first examples of fully loaded facilities was the Palace at Auburn Hills built by the NBA's Detroit Pistons in 1988. It demonstrated an abundant revenue-producing capacity compared to other teams venues at the time.
By spending only $12 million more than the cost of Charlotte's arena, the Pistons owners were able to increase revenue capacity by just over $11 million on a year by year basis.