College Athletics Jobs
College athletics provide incredible opportunities for people trying to get a career in sports. There are well over 100 D1A NCAA athletic teams plus many hundreds more competing in what's currently called the FCS (formerly) D1AA division and D2. Then there are the NAIA, D3, and junior college levels too!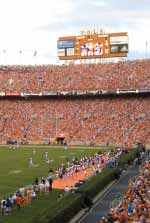 Colleges and universities employ from hundreds of staff to dozens depending on the size of the school.
Positions in college athletic departments range from coaching to marketing, communications (sports information jobs), administration, finance and accounting, and so on.
Search College Sports Job Listings
College Sports Career Paths
At SportsCareerFinder we hit on all the bases. Our college sports jobs section includes a detailed overview of how college athletics operate, job descriptions, and pay information, while our job center lists job postings from colleges and universities.
In our free members' section you'll learn about all kinds of college sports job opportunities. Here is a list of positions detailed on SportsCareerFinder:
Athletic Director Jobs – The University Athletic Director (AD) is the lead administrator in the athletic department and supervises an administrative, coaching and support staff that varies significantly depending on the institutions athletic budget.
Athletic / Physical Education Department Chair

– The administrator in charge of campus education in fitness, sports science and teacher education for physical fitness is responsible for providing vision and oversight for the university's physical education department, intramural program, clubs, recreation and equipment rental programs and fitness and physical conditioning and wellness programs.

Associate Athletic Director for Compliance Jobs

– This position of Assistant Athletic Director for Compliance at the NCAA level usually reports to the Senior Associate Athletics Director for Administration and Program Integrity and is responsible for the administration of the compliance unit within the Department of Athletics.

Equipment Manager Jobs

– The equipment manager procures, directs, and coordinates a variety of duties dealing with the purchasing, distribution, and maintenance of athletic equipment and uniforms to all student-athletes for all college athletic programs.

Associate Athletic Director for Business Services Jobs

– Someone in the role of Associate Athletics Director for Business Services typically will develop, present, and report on budgets and all it's components, works collaboratively with the athletics director, team coaches, and department staff to ensure the budget meets programmatic objectives.

Associate Athletic Director for Facilities and Grounds Jobs

– The position of Assistant Athletics Director for Facilities and Grounds is responsible for coordinating the administration, management, and direction of all games and events hosted by the athletics department.

Associate Athletic Director for Marketing

– Associate Athletic Directors in charge of Marketing and Promotions should possess strong interpersonal, oral, written, and computer skills and be able to demonstrated ability to work successfully with students, faculty, community, and media.

Sports Information Director Jobs– The Director for Sports Media is often known as a Sports Information Director at smaller institutions or even the Associate Athletic Director for Communications.
Director of Development – The Director of Development is responsible for developing, proposing, implementing, and overseeing a comprehensive fund development program in support of the university's intercollegiate athletics program.
Search College Sports Job Listings
These are just some of the positions detailed in the athletics administration jobs section of SportsCareerFinder. We also cover coaching, athletic trainer jobs, strength and conditioning coach jobs, and much more.
Learn More: College Sports / Athletics Administration Jobs Section